DARC Beginner Introductory Session is the basic lessons for new riders in Denai Alam Recreational and Riding Club. I had the opportunity to sit into the session conducted by Ara and Trisya from DARC Y.E.S. (Young Equestrian Stars) Club.
The Beginner Introductory Session started off by Ara sharing basic information on how many movement horses have: walk, trot, canter and gallop.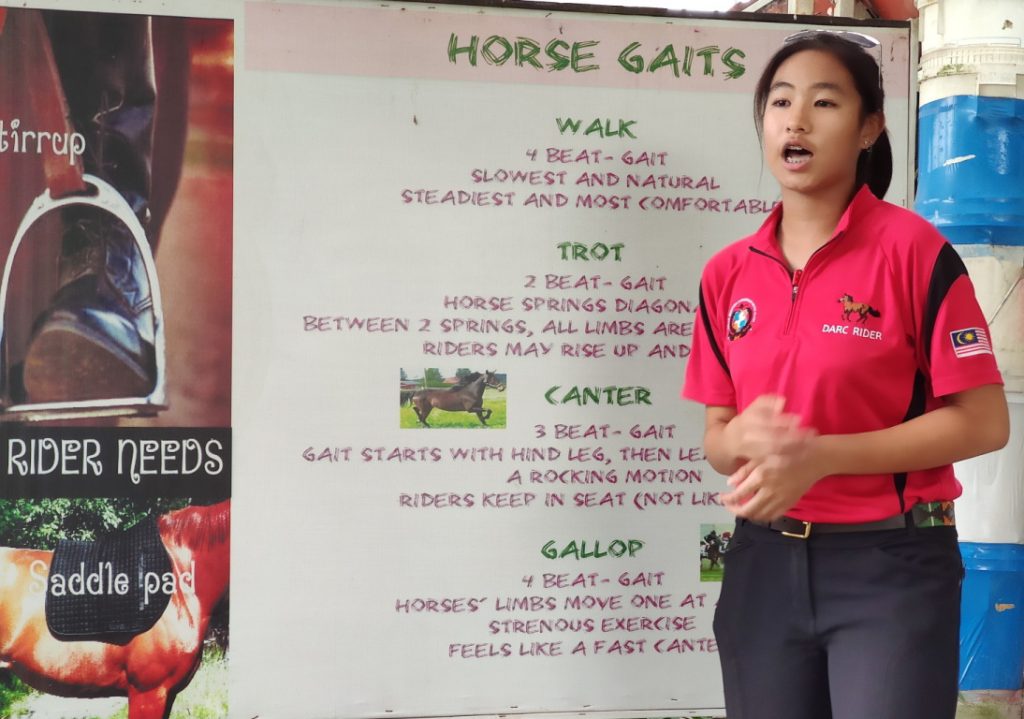 She moved on to explain the basic equipment involved in riding such as saddle, snaffle (or commonly known as bit accordingly Ara), girth, bridle, stirrup, saddle cloth and saddle pad.
Then, Trisya took over the stage to explain the different colors for horses and the marking we can find on horses.
This briefing took about 30 minutes and then we moved on to the stables.
We gathered at Zone A in front of the stable.
Trisya gave us a quick briefing before entering the stables. She has prepared some cut carrots for us to feed the horses. Carrot is the favorite snack for our four leg friends! Trisya showed us the correct way to put the carrot on our palm to feed a horse.
Once we entered the stable, Trisya distributed the cut carrot for us to feed the horses. The kids got excited and they were totally loving it!
While we were in the stable, Ara and Trisya gave us more explanation on different horses. The kids were paying full attention to the briefing. One of the kids was asking Trisya how can we tell if a horse is a male or female.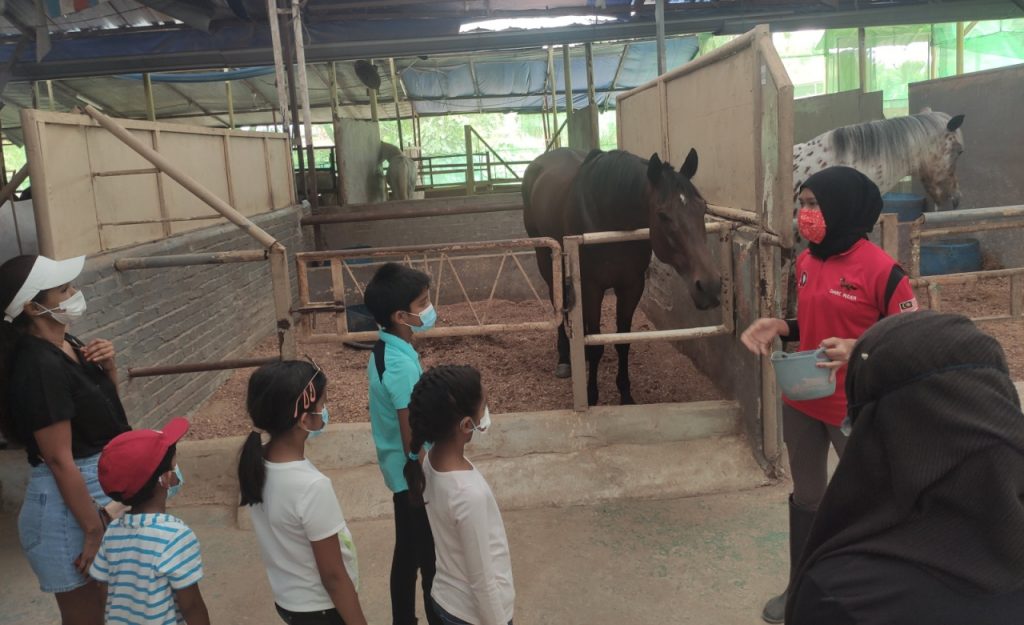 We spent approximately another 30 minutes in the stables and we moved on to the washing bay for horse care briefing.
Trisya explained the importance of hoof care. The horse in front of us is called Bulan.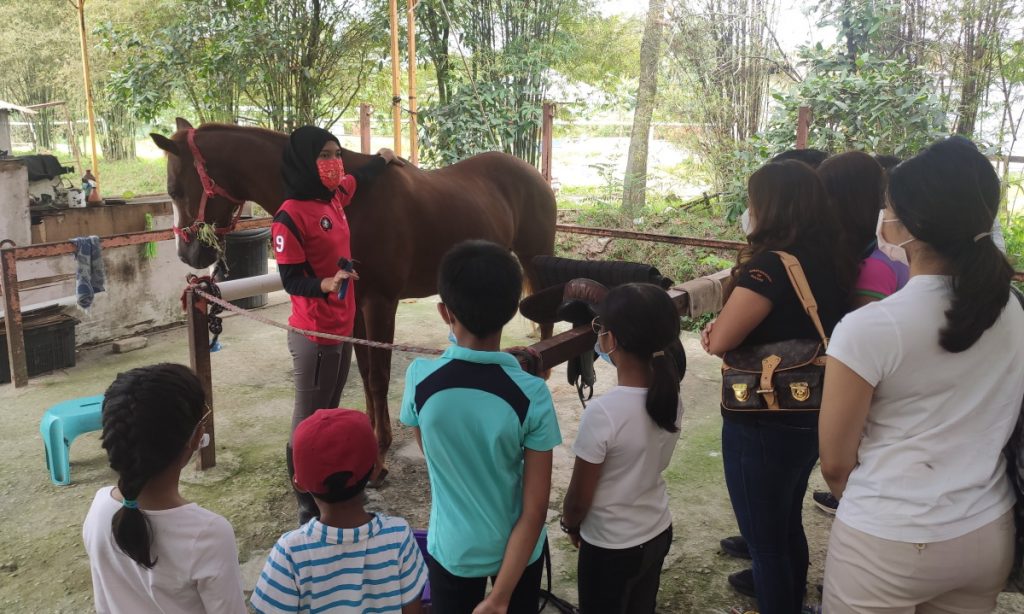 Trisya showed us how to clean the hoof.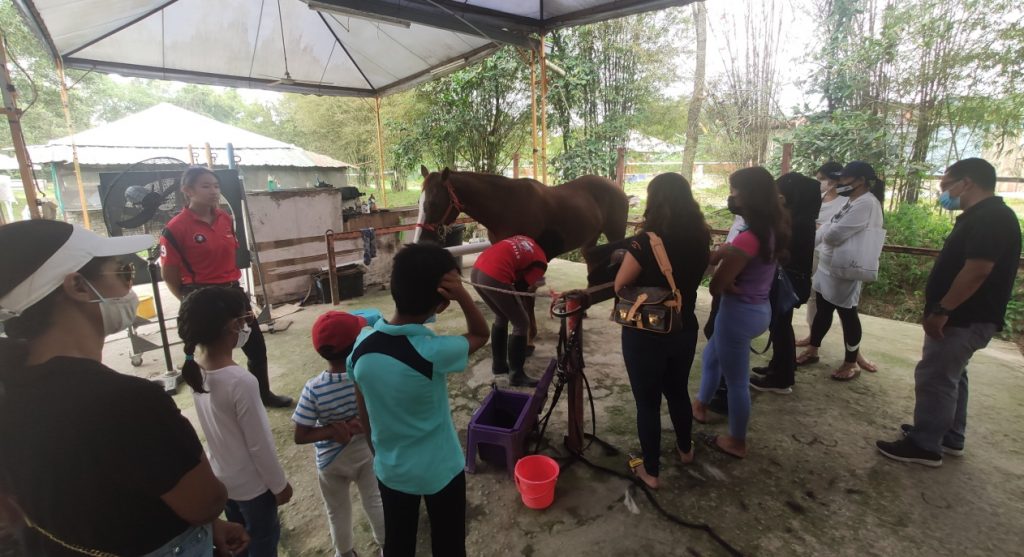 Trisya explained the different type of brushes.
Once the grooming is completed, Ara showed us how to tact a horse.
After fitting the saddle, Ara explained how to put on a bridle.
The horse care and tacking session also took about another 30 min.
We move on to the grazing area. Ara and Trisya gave us a certificate of achievement for attending the introductory session.
You will be getting a certificate as following for completing the Core Skills Horse Care and Management.
It has been an informative and fun session conducted by the Y.E.S. Club. Ara and Trisya are both very knowledgeable in answering our questions and skillful in handling the horses.
If you are interested to join a session, please contact Mr. Sulaiman at +60 10-240 2606. They will conduct such session every Saturday at 2.30PM – 4.00PM.
You can visit DARC website or visit the riding club here: