Gombak Horse Riding Club is conveniently located in Gombak, right outside of KL city center. I went there on a Sunday morning. It took me about 40 minutes to drive from Kajang. If you are going there from KL city center, it should be around 30 minutes.
Horses playing in stable early morning. There are approximately 6 horses for different activities such as riding school and outride.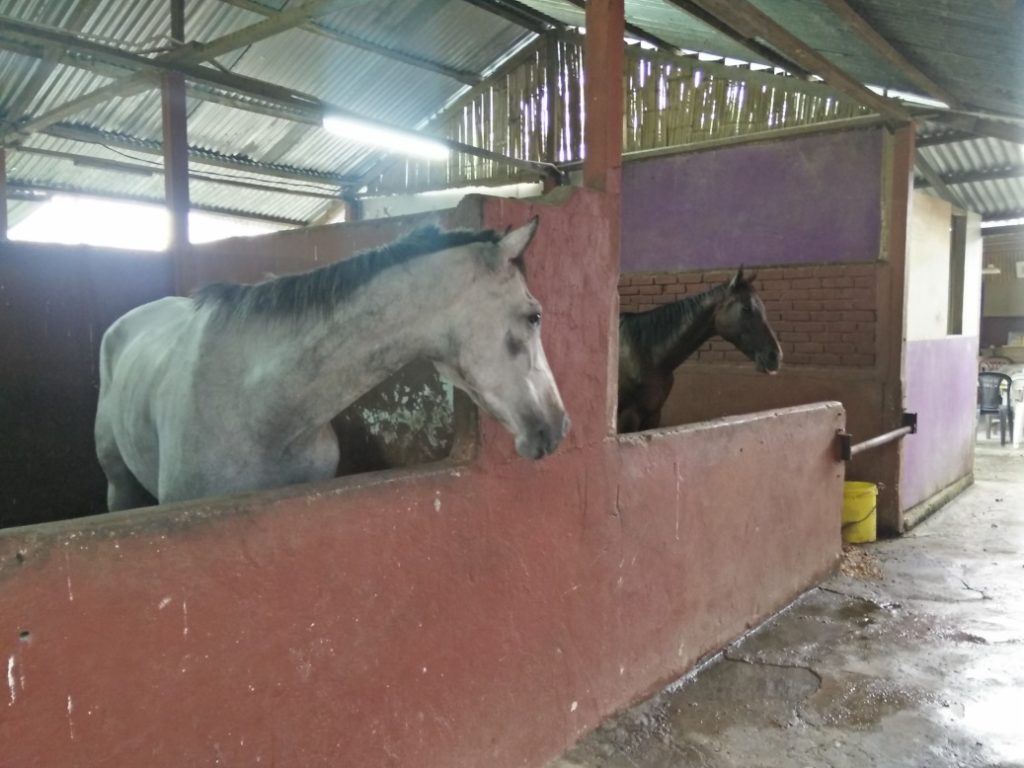 A few additional pets are making the stable more lively~
Gombak Horse Riding Club Riding School
There is a big paddock to accommodate several students at one go. When I visited, there were 2 coaches (Angah and Chai) training 2 different students individually at this paddock. But I'm sure this paddock can comfortably accommodate up to 4 horses for training at one go.
The facilities also include a paddock ring. I'm not sure what is the exact size, but it is definitely bigger than the standard 15m diameter ring. During my visit, I did not see the trainers make use of this paddock ring. Probably the trainers make use of the ring paddock to train horses more often. This ring paddock is definitely a good addition if the student crowd is more.
Other Facilities
There is also a facility for archery if you are into bow and arrows.
A really macho office decorated with various gears.
A surau is conveniently provided for Muslim students and visitors.
There is also an area for dining. There is a menu placed at the table but I'm not sure if food is being served on normal days. I did not see anyone order food throughout my visit and the counter looks rather empty as well. But the tables and chairs definitely serve as a chilling place to hang out while waiting for your children or partner come back from riding.
More private space for visitors who want to spend some quiet time.
The person in charge of Gombak Horse Riding Club is Mr. Sharil.
Gombak Horse Riding Club offers a membership package for RM150/year. You can still come here for a visit and ride even if you are not a member. Join as a member to enjoy the following benefits. Do contact Mr. Sharil to find out more.
Trying Horses
I got to try on 2 of the horses during my visit.
Francis Express – is a really beautiful white horse who arrived to Gombak Horse Riding Club recently. He trots really really softly. Riding on him is fairly comfortable. He is perfect for new students to have a sense of what trot is without bouncing all over. However he might not be a good choice for student for long term if the objective is to to learn a solid trot. Part of learning horse riding is to be able to ride on any horse steadily. Student should not settle on an easy horse too early.
Jet – another beautiful brown horse in Gombak Horse Riding Club. I was having a little problem with Jet at one particular corner. He kept going into the "shortcut" without passing the cone properly. It was a pretty strange way to ride when you pull the horse head facing right while his body kept moving to left. Well, probably it was because Jet got used to going in the "shortcut" in the previous few sessions by other students. Sharil saw it and he swiftly retrained Jet to not use the "shortcut". It was about 6-8 rounds of trot and canter by the alpha and Jet is back to be a good boy. Yes, horses do learn very quickly!
Last Thought…
Generally I enjoyed the visit very much. The best part about Gombak Horse Riding Club is the people there. The staffs and coaches are friendly and chatty. There is a little hut right next to the big paddock. Parents and students sit there to chit chat about their riding progress and talk about everything related to riding – while watching the horses in action. One of the students (Umi, a really cheerful lady) actually baked some Raya cookies to give everyone a treat! Needless to say, I made some really amazing friends there.
The location of Gombak Horse Riding Club is here:
You can also follow Gombak Horse Riding Club in their Facebook page.
Do look for Mr. Sharil (+6012 270 5674) to find out more about their activities!