MM2020 Horse Adventure is located in Putrajaya Equestrian Park. They have an active Facebook page, unfortunately they do not have a website. The following information is collected through my personal riding sessions with them in Putrajaya Equestrian Park.
This is a photo of the office. It is a little hard to notice if you do not intentionally look for it. Once you parked your car, walk through the entrance and turn left. You will find the office at the end of the walkway.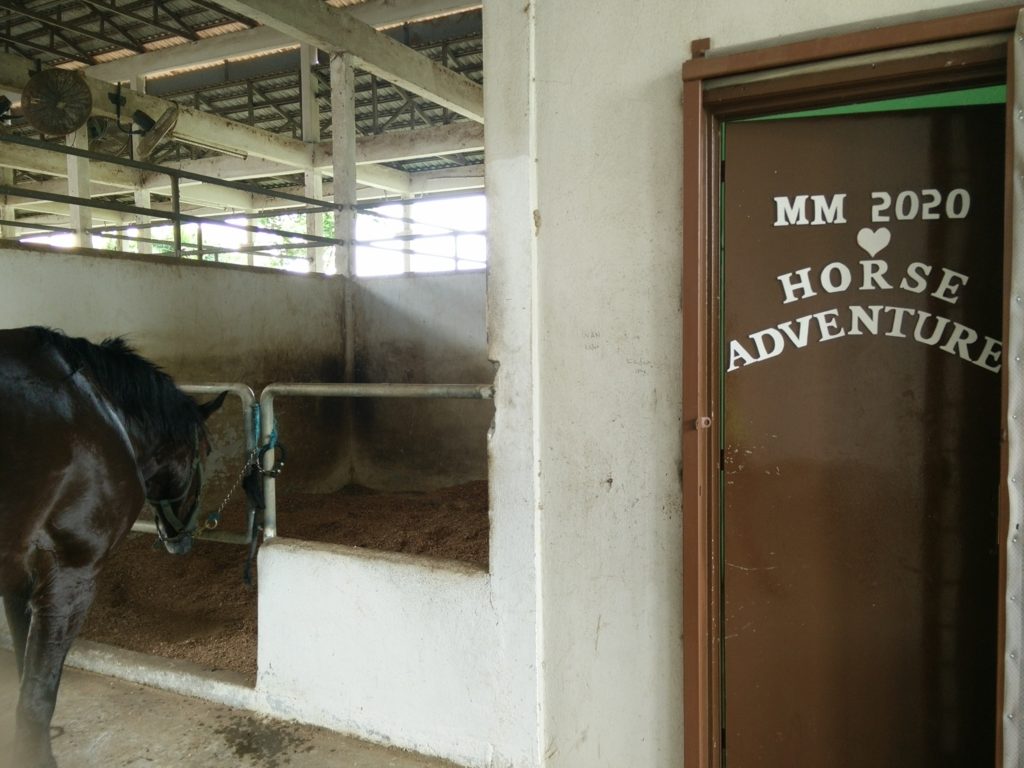 Upon reaching, you will likely find the friendly administrator, Athirah working at her desk:
I have been with another riding school prior to switching to MM2020 Horse Adventure. I have to give acknowledgement to Athirah that she has been pretty helpful and attentive to my needs. I'm happy to recommend anyone to ride with MM2020 Horse Adventure. I truly believe she has gone the extra miles to help me in many occasions. Thanks Athirah!
This is a trail ride video:
You can check out more of the videos here >> Canter in Putrajaya Equestrian Park (riding school)
Here is a beautiful photo of the facility: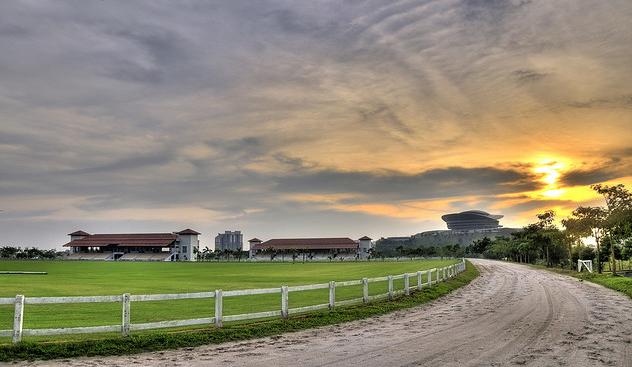 You can book a session for your wedding photo shooting as well:
MM2020 Horse Adventure Activities and Lessons:
If you are new to riding, you are recommended to sign up the Combo package to practice to be reasonably comfortable in riding different horses.
Another impressive service provided by MM2020 Horse Adventure is they provide helmet for student to use, at no cost. This is really thoughtful because most new riders have yet to decide whether riding is really the sport for them. Spending RM200-RM300 for a helmet to "try out" a sport is obviously a little high up front cost. The free helmet provided by MM2020 Horse Adventure is really handy for students' first few sessions. If the students have decided to be more serious with horse riding, the student can buy a personal helmet at the shop next door.
MM2020HorseAdventure instructor, Wan. He is an experienced horse riding instructor. He has been riding horses since young age. I have met several instructors throughout my riding lessons. I believe instructors who have high expectation of you and are hard on you are good instructors. It really is for your own good. They will pinpoint the smallest mistakes you are making while riding, again and again, to ensure you have the right posture and right habit while riding. Wan is definitely one of such instructors. He is a tough coach during lessons but he is also a really nice guy when you chat with him privately. While Wan is away, other guys (Sam and Anil) working at the saddle can also coach and watch you riding at the paddock and polo field.
Here are some details about the facilities available in Putrajaya Equestrian Park.
Riding School Paddocks 
2 x Sand Paddock 20m x 60m
1 x Lunging Sand Paddock 15m in diameter
Practice/Grazing Paddocks
1 x Sand Paddock 40m x 60m
1 x Grass Paddock 40m x 90m
In other words, this venue is meant for serious business.
This is one of the paddocks available in Putrajaya Equestrian Park. Students learn to trot and canter within the compound during lessons. The lessons are done under instructor's supervision. It is a good idea for student to practice in paddock to build up skill and confidence before heading to more challenging rides. In fact, the following paddock is the place where I spent a lot of my lesson sessions practicing trot and canter.
Last thought…
Don't be surprise if you happen to meet Tun Mahathir in the facility because MM2020 Horse Adventure is founded by Tun Mahathir.
I have yet to meet any of them personally in the facility. But I would imagine it will be totally awesome if I get to ride with them one day!
Overall, It has been a pleasant experience to ride with MM2020 Horse Adventure. Most horses are easy to ride. The lesson fee is affordable and reasonable. The staffs are friendly. I'm happy to recommend anyone who want to try out horse riding to give them a visit. Oh… and don't forget to try out the Joyride for RM10 if you are visiting for the first time. You get to ride on a horse walking around the stable for few minutes guided by the staff. The last I heard from Athirah they are moving to Paya Indah Wetlands, Dengkil. However, I have yet to get any notification they have moved. Until next time!