It has been more than 1 year since I last rode horses in Putrajaya Equestrian Park with MM2020HorseAdventure. I always like the horses there (a lot of polo horses) and track is fairly well maintained.
The beautiful horse statues were added since the last time I came visiting:
Jaclyn and I went for a ride last Friday morning and it was a really adventurous trip. This is the first time we went out without a guide. I became her partner in crime.
Before heading out, Jaclyn reminded me, it's selfie time!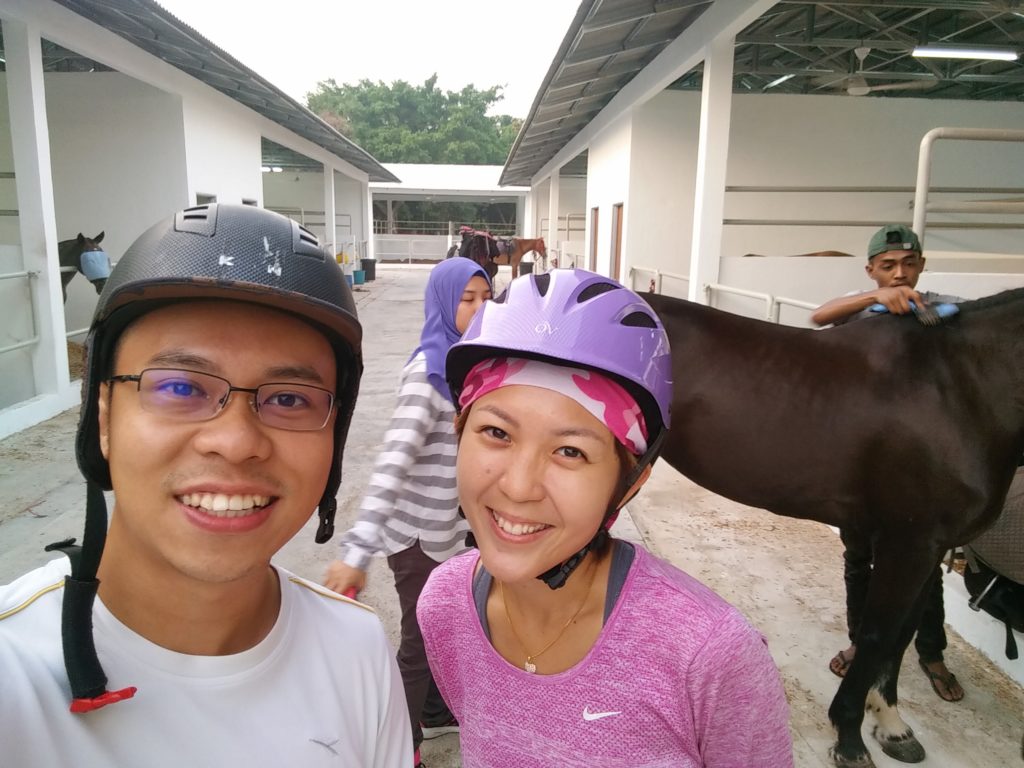 Athirah, the lovely facilitator for MM2020 was behind us. The horse being groomed was Sombra, Jaclyn's favourite horse.
Heading Out to Trail
We took the standard route to reach to the lake. Boy it was so enjoyable to be slow cantering on an ex-polo horse. Felt like sitting on sofa with wind blowing on my face.
The head movement of Gatita was so soft that I worried I might hurt her while riding her. Such a lovely horse. I have to be really gentle on the rein.
Before you know it, Jaclyn reminded me again, do you know what time is it?
IT'S SELFIE TIME!
We got someone walking along the trail to take a photo for us.
We made a big circle along the lake. Jaclyn had a really good time galloping with Sombra and I had hard time catching up!
After we completed the loop, we realized it was still a little early so we decided to "explore" some new path lead by our first time leader.
At one point we were so far out we were going opposite direction of the stable, according to Google Map. This photo is taken at the junction we decided to turn back as we were too far out.
Overall we did approximately 19KM in 1:22 hour. That's quite close to 1 loop of endurance competition on both timing and distance although the horses heart rate were definitely less than ideal.
Here is a summary of our ride.
Well, good news is we made it back safely from Holland although we were unsure half of the time when we were crossing junctions. Most of the time, it was the horses, Sombra in this ride that brought us back to stable. Thanks Sombra!
The trail riding fee is RM120. If you would like to make a visit there, feel free to contact Athirah at +60 14-518 9147​⁠​.
Here is the location to Putrajaya Equestrian Park with MM2020HorseAdventure