Two weeks back I had a good time hacking with Aziq in MAEPS, I went back for another ride.
It turned out this week I had a rather special experience with the horse (Faana) I was riding.
When I arrived, the groomer brought Faana to the entrance for me.
En. Faud was explaining to me that Faana's legs are all good. The only problem he has is a little attitude by not obeying to rider's direction.
As I was the last person to get my horse, I got a bit of catch up to do with the rest of the group. Good thing is Abang Fauzi and another rider were walking slowly to wait for me, while another 3 riders were going fast in front.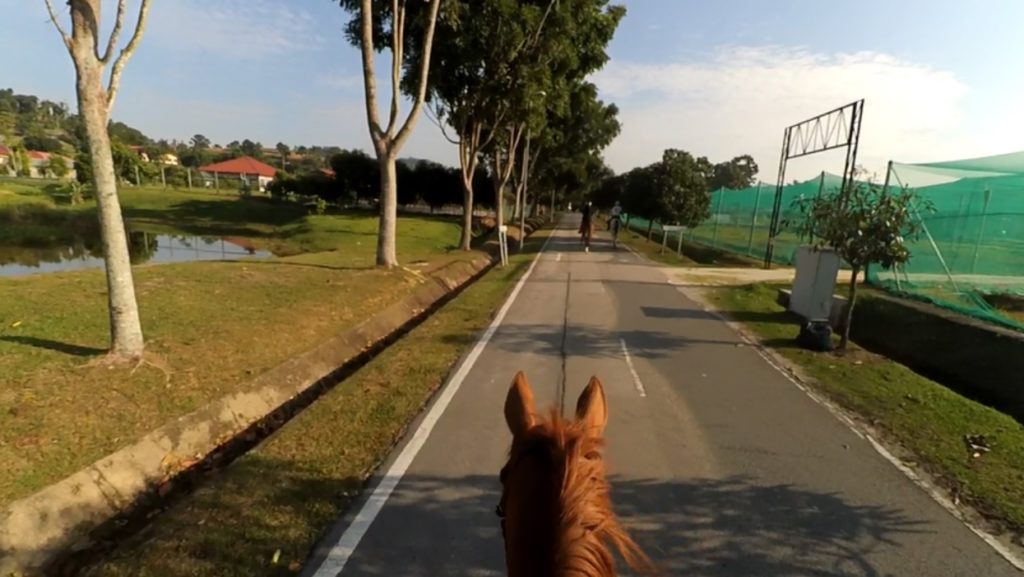 Saying hi to the rest of the group, who appeared to be frequent riders in MAEPS.
Abang Fauzi on left. We were trotting toward the trail entrance.
Ta-da! The entrance to the trail is locked and there was no one there to open the gate for us. Abang Fauzi was shouting for a while guessing there was someone in the little hut can come out unlocking the gate for us.
I moved up with another rider to check out the other entrance. Too bad, luck clearly wasn't on our side. The other gate is closed and locked too.
We trot back to the initial entrance, hoping Abang Fauze has already got someone's attention to unlock the trail entrance gate.
Nope… We were still on our own. Our group waited there for another 5 minutes. A lot of cars passed us by. Yet, we didn't manage to get the door unlocked.
A group of passionate riders hanging at the road side. In retrospective, I'd imagine it's going to be a really fun time hacking with the group…if we actually made it.
Abang Fauzi moved on further back up to another entrance. Although it is blocked by the barrier, the side was big enough for the horses to walk in. Unfortunately, for some reasons the horses refused to walk in.
Abang Fauzi was having a little hard time controlling his horse to get him walk into the grass.
Same situation for me. Faana started acting up, refusing to move near toward the entrance.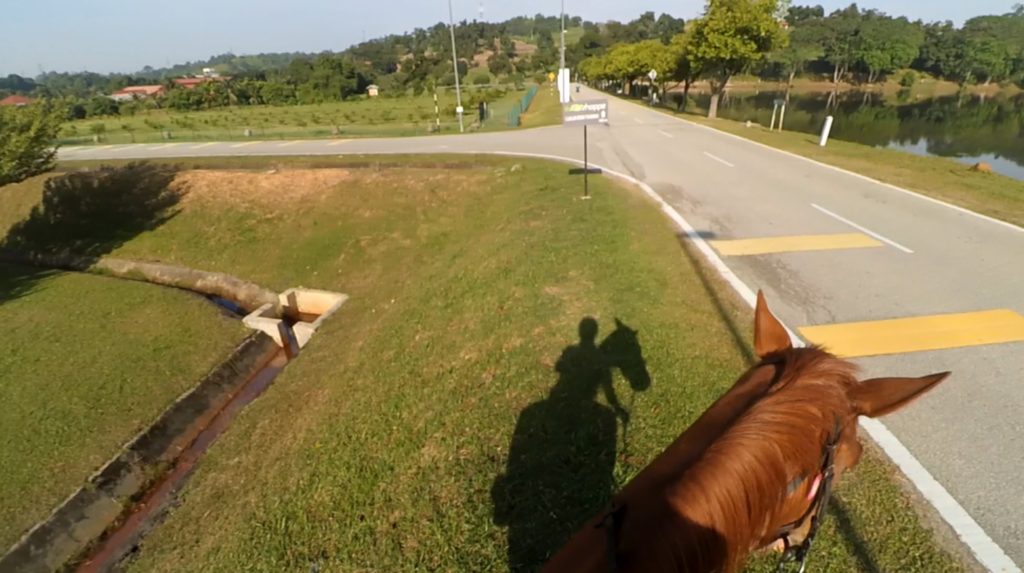 Faana decided to move to somewhere else against my will. I probably spent 5 minutes "battling" with Faana to get him to walk back to the entrance.
I could hear someone was calling my name asking me to get back to the group. Faana was rather stubborn, insisting to move away from the entrance. This is the time I decided alright Faana, you won…
I rode Faana further down the road. The plan was to make a circle to go back to the entrance where I lost the group.
As I rode further down, there is another stable with another paddock.
I could hear Faana's neigh a few times along the way while walking near the other stable.
I met another rider who is not from our initial group. He is from another stable. I did not spend too much time chit-chatting as I got a lot to catch up with my group.
When we walked near to the other stable, Faana rushed into it. I'm guessing that felt like home for him.
Faana has a rather strong opinion on where he wanted to go. It was a little hard to control him. In the stable, I realized that I could no longer direct Faana and I got down from Faana to pull him and walk back out.
I walked a long way to go back to the stable. Along the walk I tried to ride back on Faana but he has a habit moving away while someone approaching from the side. Adding to his earlier attitude, I figured out it was best to walk him back to stable by foot.
Upon approaching the stable, Aziq came to me riding a motorbike. Obviously he could guess what happened because the other riders must have went back to stable earlier except me.
Aziq swiftly took over Faana, took my whip over and ride on Faana to go back to stable. He left me with the motorcycle for me to ride back.
Well, the last time I rode a motorcycle was illegally in an island in Thailand. Before that, it was many many years ago since I last rode a motorcycle. I'd imagine it is going to be really funny scene if I could not ride a motorcycle. First they send Aziq with the motorcycle rescue Daniel and Faana, then they have to send another motorcycle and 2 persons to rescue Daniel (again!) and the motorcycle. The good news is I did manage to ride the motorcycle to go back on my own. Hooray!
Back in the stable, I saw the rest of the riders whom I went out with earlier has already got back and was having a good time riding in the arena. But I also learned that they did not end up going into the trail because the horses were not cooperating.
In the arena, ZK (one of the earlier riders) offered her friend's horse, Bicara for me to ride for a while. It was a beautiful gray horse but boy he sweats a lot! By the time I got down, I noticed he is so wet as if he just finished a shower. I only manage to ride him for about 5 minutes. I took off shortly after for another lunch appointment.
Afterthought
Obviously that wasn't as pleasant as what I expected in a trail ride. It involved a very long walk alone with Faana. During my walk, few things popped up in my mind.
The frustration could get pretty intense when a 400 kg beast is not being a nice boy. Is dealing with problematic horse one of the reasons why people stop riding?
When we are lost we should still hold our head high. Keep going and keep moving forward no matter how small you are feeling.
The universe has a strange way to expand your comfort zone. Just when I thought I was getting pretty good with riding horses, the universe gave me Faana with an attitude. It kinda served as a reminder for me to stay humble.
Although I wouldn't wish for this happen frequently, it was nevertheless a rather interesting experience with horses that I never have. Definitely going back to MAEPS for another ride to enjoy the beautiful greenery!
Find out more about riding in MAEPS in my previous post.