Empayar Sunnah Archery & Riding (ESAR) at Bukit Beruntung has always been my favourite track to ride. I especially like their challenging track and my chatty guide, Boy. Last Sunday I went there with Suki.
We got there about 8.30AM. Wasted no time, we mounted on to our horses. Suki got Love. Her name is Love because she has a love mark on her head. Love is a lovely Anglo-Arabian.
While I mounted on Joker who is a tall retired horse from police force. He is like the model among the horses.
We got ready at the back of the stable and ready to head off to the trail.
On our way heading to the trail. We were cantering on the grass.
We were walking slowly at the entrance. In front of me is a Abang who recently started riding. This is his first time going for an outride.
Here is where the track started to get exciting. We arrived to a little slope where we (I mean the horses) have to climb up. The horses will automatically canter up. All we had to do were to bend a little forward to lighten the seat.
Then the horses can trot freely at the open field.
We cantered deeper into the greener part of the trail.
Since this is the first time Abang going for outride, he got tired quickly. Suki and I overtook him to meet boy in front.
Boy was waiting for us in front of a junction.
We walked passed the tall grasses.  As always, Boy is happy to explain to us where does each trail will lead us to.
This is one of my favourite spot in this trail. It is a long straight path where I could canter without much worry about the path condition.
We took a turn and move into another farm path. This is also another favourite of mine – thanks the beautiful scenery. Tall coconut trees in front, variety of vegetables at both side and straight clear path ahead of us. This is also a path where some horses can get into galloping!
I was doing slow canter at this point. Suki overtook me with fast canter.
We make 2 loops in this path. On another loop, Boy was galloping with his horse, Faraz. It was as if he just bounce by. He overtook me and got out of sight in less than 5 seconds!
We ended the trail by dropping by the pond. The pond was not fill with deep water but it was good enough for Lizaz, Love, Joker and Faraz to get a drink… and have some fun playing water. The Faraz and Love got a little cozy on the water and decided to take a bath! They lied down on the water and got Suki and Boy wet. Too bad we didn't get to take any of their embarrassing photos!
We head back to the stable after a satisfying ride.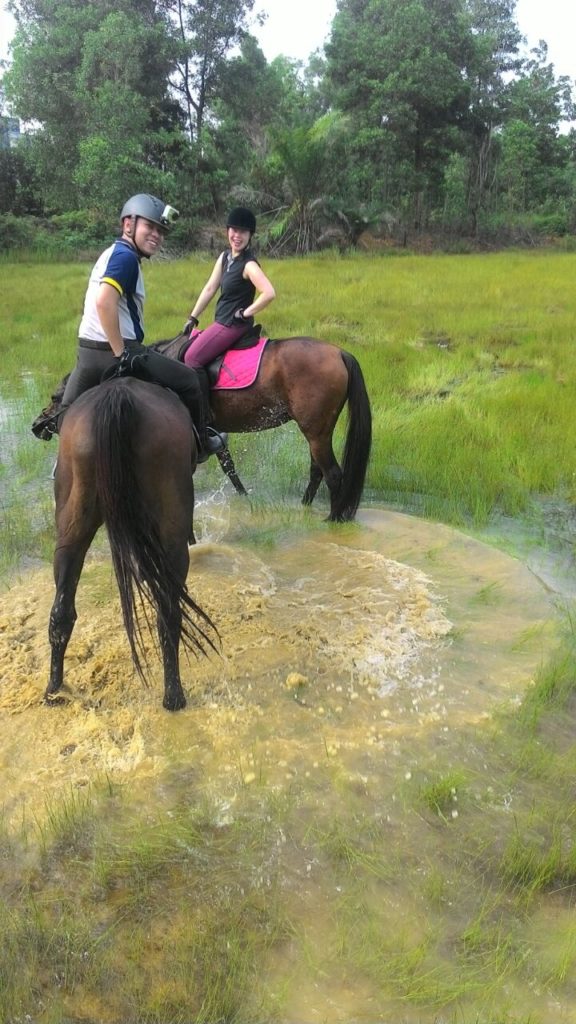 Further Details
If you would like to do a similar outride, please drop by Empayar Sunnah Archery & Riding (ESAR) at Bukit Beruntung. The outride fee is affordably at RM120 per session. Please contact Boy (018-918 8871) to schedule your ride. Check out my other trail riding experience with Empayar Sunnah Archery & Riding (ESAR) at Bukit Beruntung here and here.
Location:
Until next time!