Riders Resort is an equestrian friendly mansion-style resort. It is located in Kulai, approximately 50KM from Johor Bahru.
The resort has a stable attached to it, which makes it very convenient for the guests to go for a ride within the facilities.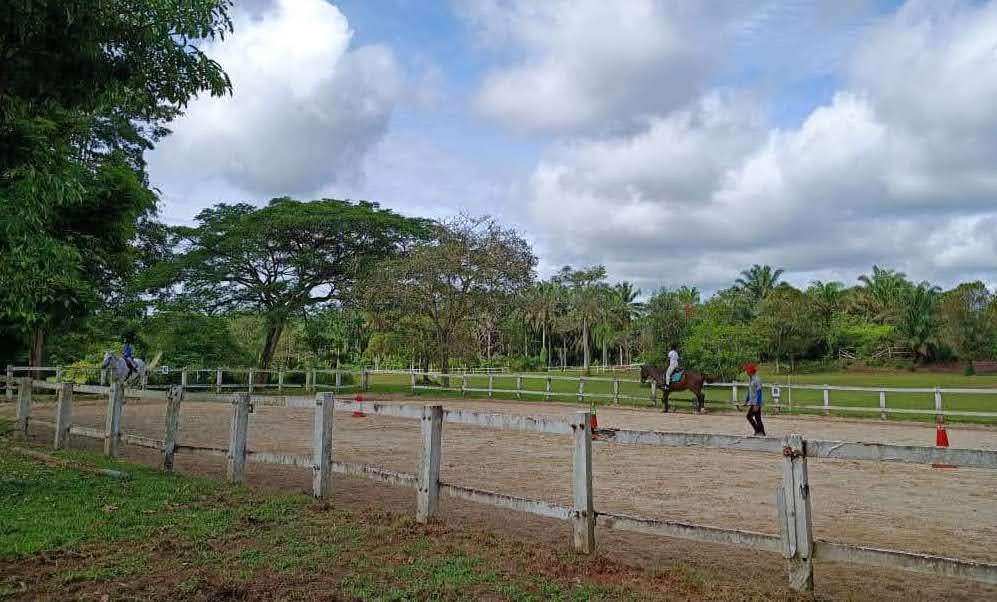 Apart from riding lessons, the resort also offers trail riding for beginners and intermediate riders.
For total beginners, the staff will lead the horses and walk the horses into the trail side by side with the riders. It is a relatively safe ride as the horses are pretty calm.
As I arrived to the resort in the afternoon, the receptionist together with the resort manager, Dennis took care of my check-in to the resort.
Dennis is your friendly host who is willing to go the extra miles to take care of your needs. Definitely A+ for his attitude in offering great hospitality to his guests.
Upon arrival, we had lunch in the cafe. The setting of the cafe is tastefully decorated to provide a cosy environment.
I booked for 2 trail rides during my 3-day stay.
Before mounting on the horse, Halim checked if we can handle the horses on our own before letting us out. The staff helped me with mounting on my horse.
We warmed up the horses in the arena before heading out.
Passing by a big field in the resort on our way out, before hitting the trail.
The trail offers a lot of greenery. Here are some views from the horse back during our trail ride.
Of course, not to forget some photos with my hairy friend in the palm oil estate.
The riders.
Posing in front of the resort main building.
More information on Riders Resort
Overall it is a very relaxing ride in Rider Resort. The trail is clear and easy to ride. The horses are calm and easy to handle. It is a very suitable place for beginners to get a taste of what trail ride is.
Please visit Rider Resort Facebook page or contact Rider Resort at 019-7105330