Unit Ekuin UPM is the stable for University Putra Malaysia, located in Serdang, Selangor.
Unit Ekuin UPM sits on 4 hectares of land. It consists of two stables that can comfortably home 47 horses. There is a 150 ft x 20 ft sand paddock of international standard. The most exciting part is the riding trail that run across a 160-hectare grazing field, with a 30 km riding track in the farm area.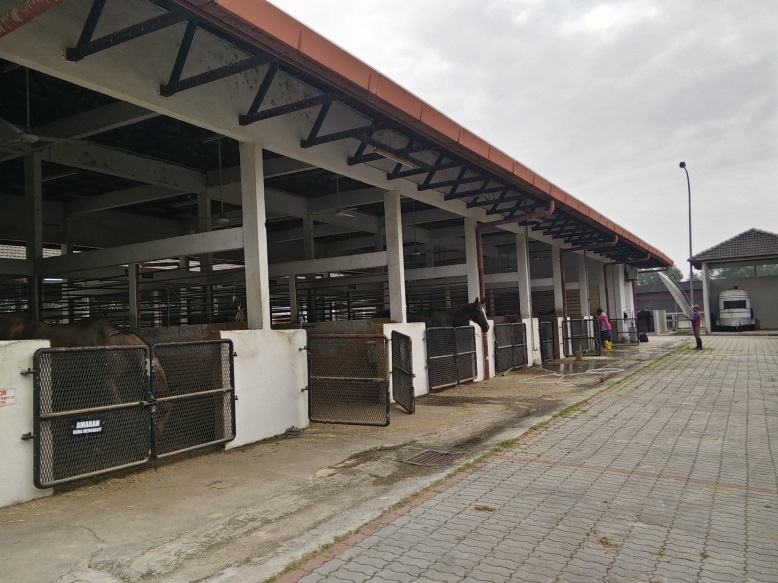 There is a round paddock for students to develop their basic riding skills.
The bigger paddock for students to practice trot, canter and various riding activities.
A big white board for scheduling the horses activity.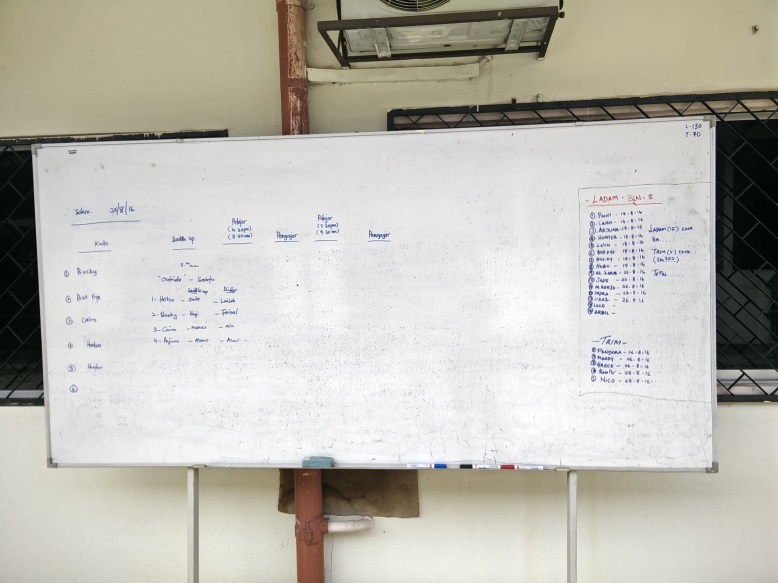 I went there on a Sunday morning. Haji Kordi is the trail leader for Sunday; while Mr. Azmi is the trail leader for Saturday.
The groomer helped me to get my horse ready. We chatted a little on preparing the horse. I got a beautiful horse name Bucky.
Naughty Bucky likes to bite. Sometimes biting people when they go near him. The staff put a small warning signboard on his stable to warn people that Bucky might bite.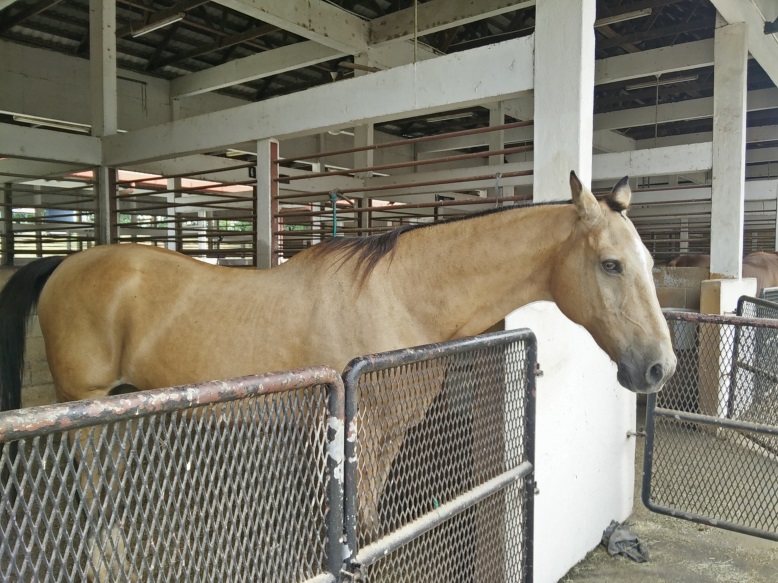 I brought Bucky into the big paddock to warm up. Perhaps Bucky has been serving as school horse for far too long, he was not very responsive to the my leg, sound and even light tap with whip.
Later I found out that Bucky is one of those difficult horses to ride in Unit Ekuin UPM, especially inside paddock. However, he does follow another horse that is in front of him to trot and canter. So I guess Bucky is more likely to be a follower horse.
In the paddock, Haji Kordi adjusts the stirrup for me. Thanks Haji!
We have a round of warm up in the paddock. There is another student practicing in the big paddock. I took the opportunity to get Bucky to walk behind the student's horse while she trots so that Bucky starts trotting 😛
Lt Kol Fakharuzi, a retired army (with his private horse, I Told You in Unit Ekuin UPM) gathered us in the paddock to give us a short briefing after the warm up.
This is the first time I had a briefing before heading out to trail ride. He told us the do's and don'ts while in the trail. He even put us into a sequence labelled us as Rider 1, 2, 3, 4 and reminded us not to cut queue. It sounded exactly like when I was serving in National Service.
Shortly after the briefing, we head out to the entrance of the trail.
Trail Ride in Unit Ekuin UPM
Haji Kordi leads the way. He was riding on Arjuna, an elegant Arabian. A breed that dominates endurance riding. However Arjuna was a little scared in the trail as I noticed he abruptly avoids objects on the ground and stopped several times while trotting. It takes a skillful horseman like Haji Kordi to handle Arjuna.
We passed by a lake in UPM. The highway on the right is SILK highway, the highway where I occasionally drive by to notice the wide hilly field in UPM.
Haji Kordi trots on the really clean trail and I follow behind.
Haji Kordi opens gate for us that leads us deeper into the trail.
Haji Kordi trots into an uneven narrow path to get into the hill.
We canter our way up the hill. Yeeehar~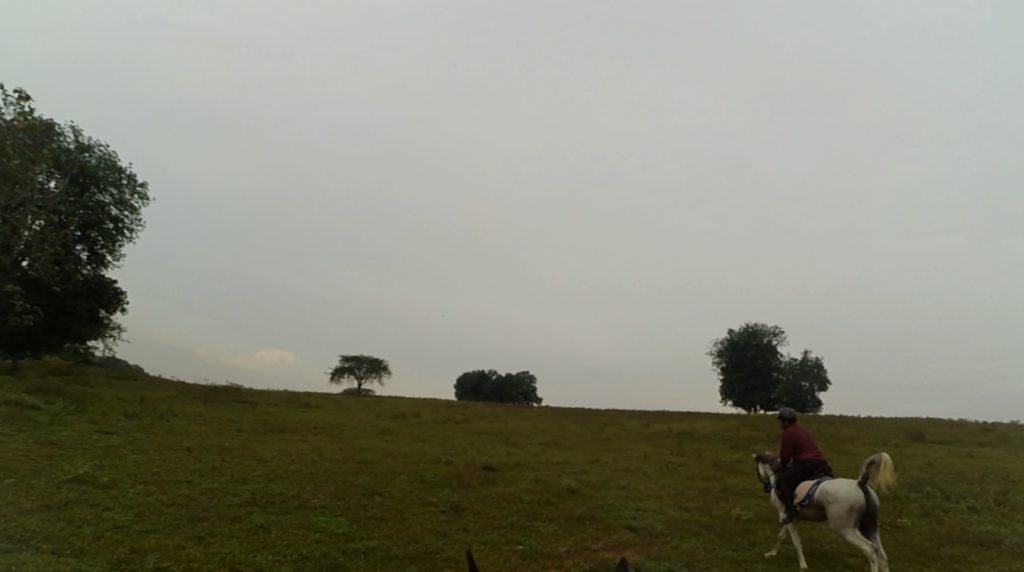 I overtake Haji Kordi while cantering up, then Lt Kol Fakharuzi overtake me on his I Told You. It was amazingly fun racing on the hill!
Gazing down the wide green field from the hill. I'm guessing that is the highest point in UPM. It was a little hazy on the Sunday morning else the view is going to be more magnificent.
Back on the track. I was able to canter on this clear path.
Overall Experience
The trail in UPM has a few highlights. The top of the hill where we canter up is one, where we can appreciate the far reach greenery. There is a deer farm and a cow farm along the trail as well.
The trail in UPM is clean and flat. Not a lot of trees which means we did not have to avoid tree branches all the time. We could do a good mix of trotting and some canter. Well, actually there were a lot of clear path where we could canter however Haji Kordi was leading the trail ride trotting most of the time as we have one rider falling behind.
UPM claims to have a track of 30 km however our ride was only slightly more than 8 km. If you are a more serious rider looking for something more challenging, you might feel like just getting started and then whoops… you are back to stable already.
Back to Stable
Arjuna, the gray Arabian is taking a rest to dry his sweat.
The groomer, instructor and Lt Kol Fakharuzi are chilling out in front of the stable.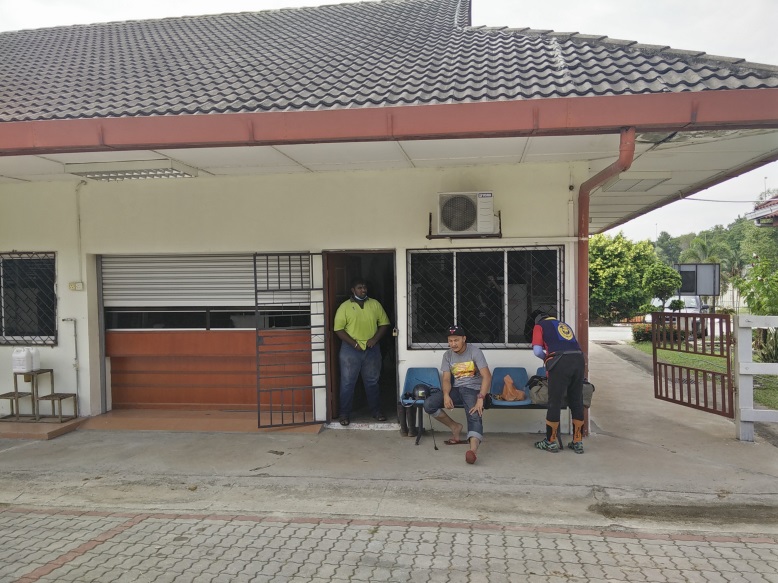 Other Information
The list of activity offered by Unit Ekuin UPM and the fee are published in their webpage.  Have fun!