Saville Equestrian Park is located inside Saville Free Range Agro, Semenyih. The facility is in the state of southern part of Selangor, approximately 1 hour away from KL city center.
Upon entering, you will see the office on the right side.
On your left, you will see a big covered arena for riding activities.
In front of the arena, there is a little hut, tables and spacious chairs for students and visitors to relax.
The horse riding activities in Saville Equestrian Park include riding lessons and also trail ride for experienced riders.
One of the coaches is teaching a young rider for the riding lessons. The riding lessons are conducted in both morning and evening.
There are approximately 15 horses in Saville Equestrian Park. All comfortably housed in their own boxes.
Stable A.
Stable B, another row of stables.
The washing bay for giving shower to horses.
Another thoughtful facility in Saville Equestrian Park is the air-conditioned room for the visitors. A very comfortable place to relax if you do not like prefer waiting outdoor.
The room is tastefully decorated with horse photos. This collection showcases the construction progress of the stables.
A collection of horse photos. I wonder if these are all the horses the owner owns.
This collection shows more of the riding activities.
I came here for a trail ride and I got Sheldon as my riding buddy.
Together with another two riders, we went out and Hairi was our guide for the day. Hairi is a skillful horseman, riding a stallion during our trail ride. Not the mention, he is very cheerful person.
While we were heading up the hill top.
Passing through the lush green.
A few more photos during the trail ride.
Some solo photos for myself.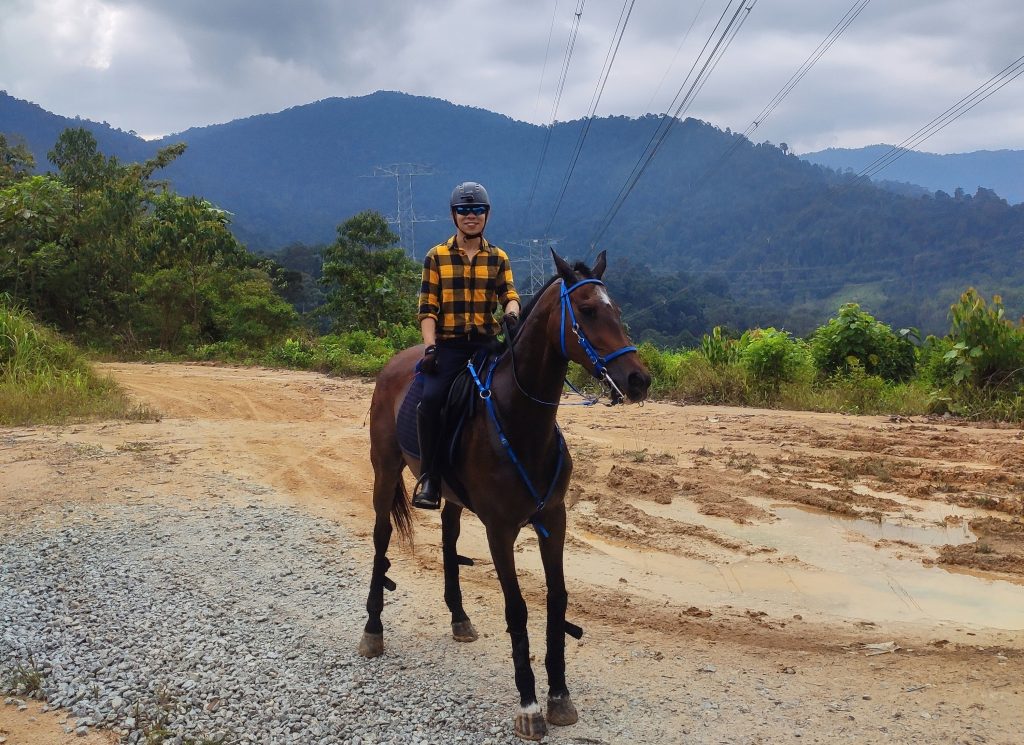 A group photo for ourselves. Smile!
I have particularly enjoyed my time there as the staffs are very friendly. The air-conditioned resting room is impressively clean and comfortable. The arena has a roof covered, that means the students do not have to worry about rain during the riding lessons. The trail is slightly short but there is enough of uphill cantering. Will definitely come back for another trail ride!
More Information on Saville Equestrian Park
For more information, please contact the administrator Nyna at +60 19-755 3501, or check out the Facebook page.
The location: