It's been many months since I last visited MAEPS. I like MAEPS track because it has a mixture of farm trail and jungle trail, it's a rather enjoyable & relax ride.
The arena looks slightly different from the time since I last visited. I guess they are doing some refurbishment. I definition look forward to the arena with better condition in the future.
Without much delay, we proceed to mount on our horses as the horses were already tact up upon our arrival. Very well prepared by Firdaus and his team.
We were pleasantly companied by Firdaus, our friendly and very accommodating guide who is also the operator for outride activities in MAEPS.
We are on our way into our track.
Firdaus putting on a satisfying smile on his face while riding.
We also passed by some durian trees. Jac got excited with the durians!
About 1/3 of our trail, we rested a while at a peak.
I was on Ross and Jac was on Malika. Both of the horses are beautiful KKA.
We continued to walk around the open area. We enjoyed pretty good view overseeing the surrounding of MAEPS.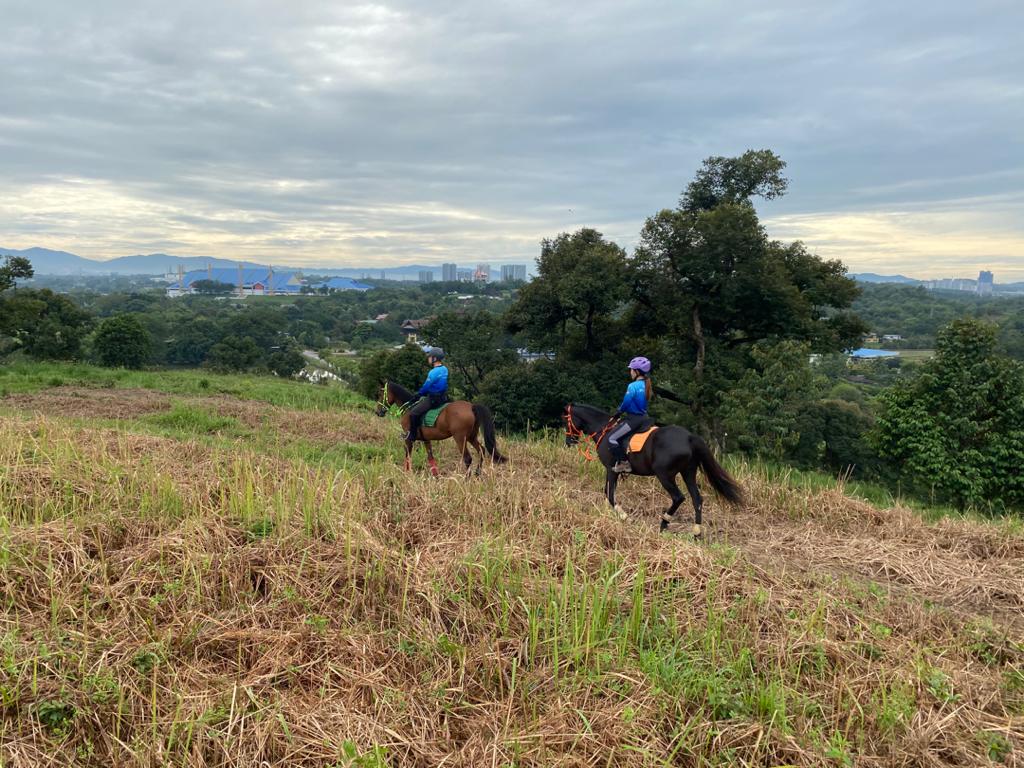 Firdaus was kind enough to take some photos for us while we were walking around.
Along the way, I exchanged horse with Firdaus.
Coffee is a slightly taller ex-polo. Since Firdaus is taller than me so I adjusted the stirrups so that I can ride more comfortably.
Firdaus is a really thoughtful horseman. He kept Coffee for himself initially because he was worried that I can't handle Coffee, as Coffee could get into fast cantering rather quickly if not handled well.
He asked me to give it a try anyway in a short track. I started off with steady trotting and then got into slow cantering. It was pretty comfortable to ride Coffee's canter.
Coffee was responsive and was very light to ride with. Coffee is a really well-trained horse with good handling. Coffee was cantering with comfortable speed all the way up to the peak in MAEPS where the little hut is located. I only had to slightly lift the rein when I want to have more speed while cantering up hill.
We rested again in the little hut at the peak for about 20 minutes.
We let the horses to roam around for their grass snack.
The camera man behind the scene.
Jac definitely has a more nurturing side with horses.
We came down from the peak after we had our break. On our way back we were mostly walking and slow trotting.
In overall, we covered 11KM. We spent approximately 2.5 hour in total where about 30 minutes was resting time. This was recorded using my Amazfit T-Rex.
Feel free to contact Firdaus (+60 11-1037 4872) to book your ride.